Being around horses comes with risks — big ones.
They are, after all, many times our size with minds of their own. Horses have their own fears, too, and their prey mentality can make them unpredictable.


No wonder so many of us struggle to feel truly at ease around these animals—regardless of our skill level, discipline, and situation.
But Imagine... 
feeling absolutely 
safe
 and 
confident 
around horses—without having to endure costly physical and emotional safety lessons 'by accident'.
Because really, safety shouldn't be SO costly.
Consider the thousands of dollars equestrians spend on preventable medical and vet bills, not to mention the physical and emotional toll of preventable injuries. Ouch.
If You're a Nervous Nellie or a Rookie Rider...
You've probably heard that horses can sense our fears. If you stay calm, cool, and collected, it's much more likely that your equine partner will be too.
Here's What You Might Not Know
Confident riders are not born unafraid. It's actually
normal
to be concerned about the risks associated with horse riding. You can't
un-know
the risks.


Even though being a calm equestrian helps create a calm horse, taming your nerves around horses isn't about 'sucking it up.' It has nothing to do with your talent as a horse rider, either.
But you can boost safety outcomes with a few simple tools:
1) KNOWLEDGE
Understanding equestrian risks, and taking basic preventative measures while riding, handling, and caring for horses gives you confidence and helps prevent injury to horse and rider.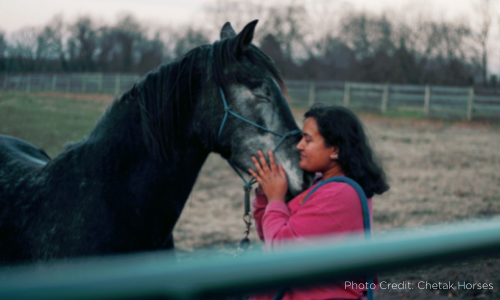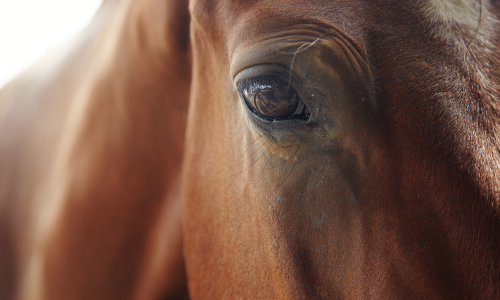 2) AN UNDERSTANDING OF EQUINE PSYCHOLOGY
By grasping how horses are wired psychologically, you'll feel increasingly self-assured about your approach and ability to troubleshoot issues through curiosity—instead of fear—creating a better experience for you and your horse.
3) A SAFETY MINDSET
Whether you've been around horses for years, or are just starting out, you do your best riding and have the most fun when you (and your horse) feel safe. Cultivating a safety mindset is an internal choice that will lead to feeling more calm and prepared for any scenario.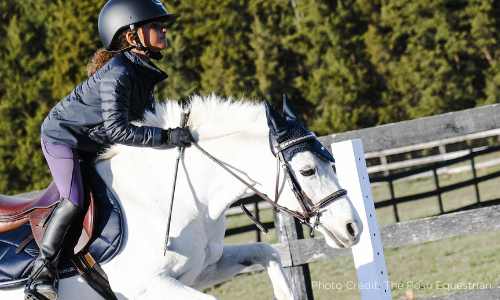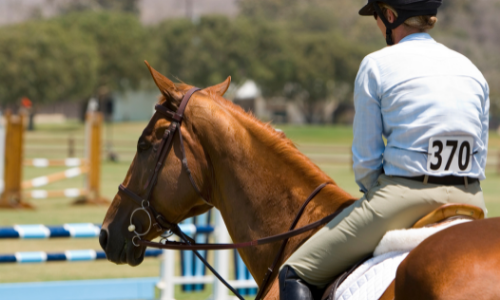 4) TROUBLESHOOTING SAVVY
After learning how to set you and your horse up for safe riding and handling, you might be wondering if you'll have the tools to venture out of your comfort zone. You'll learn how to stay safe at the barn and in the arena, as well as in new situations (e.g. shows, trails).
Solving the Safety Equation
Curriculum includes four modules (four lessons each), as well as supplemental videos curated from equestrian creators.
This course IS for you if...
You (or a loved one) are new to equestrian life and want to learn how to be safe around horses from the start

You're returning to riding after an injury or frightening experience and feel fearful of getting back in the saddle

You've ridden for a while but realize you haven't been as diligent as you should be about safety best practices

You LOVE horses but struggle with anxiety when it comes to riding or handling them

You know that just owning a helmet isn't enough 

You're a lifelong learner and know you can always expand your equestrian knowledge and skill set
This course is NOT for you if...
You think helmets are unnecessary or 'uncool'

You assume a quick google search will cover the equine safety information you need to know

You think what you and your horse do doesn't affect others

You're worried about what other people will think of you if you take thoughtful precautions to be safer

You feel you've been around horses long enough to know everything about safety
Picture...
Going to your next lesson without worrying about all the things that could go wrong

Being proactive about your horse's safety instead of reactive

Inspiring other riders to take safety more seriously

Feeling confident about guiding your horse through new situations with ease

Being able to ride more (and better) without being held back by fear, injury, or trauma

Handling mistakes (which we ALL make!) with self-forgiveness and a learning mindset
Need help enrolling or have questions?
Email [email protected]
About Horse Rookie
Horse Rookie is a site dedicated to helping equestrians of all levels (especially rookies) answer common questions, make informed decisions, and have more fun with their horses. Our blog is created by equestrians with diverse backgrounds, voices, and experiences.